PEST CONTROL AUCKLAND BED BUGS- WHAT IS MY PEST
BED BUG CONTROL CENTRAL AUCKLAND CBD
Bed Bug Extermination in the World is an increasing issue. They are uncommon in houses in NZ and more likely to be in an apartment complex or in an accommodation business.
Please note unseen insect bites that present as welts and in a line  with blood marks on the sheets CAN BE FLEAS and also Bed Bugs.
SIX  interesting facts on Bed bugs
Fact #1: Bed bugs can live anywhere.
When most people think of bed bugs, they think of hotels. But the truth is, bed bugs can thrive in single-family homes, apartments, hospitals, college dorm rooms, office buildings, schools, buses, trains, movie theaters, retail stores and just about anywhere that humans are. In fact, according to the "Bugs without Borders" study, 89 percent of pest professionals report treating bed bug infestations in single-family homes, and 88 percent report treating bed bug infestations in apartments/condos. Respondents also report other common areas, with 67 percent treating bed bug infestations in hotels/motels, 35 percent in college dormitories, 9 percent on various modes of transportation, 5 percent in laundry facilities, and 4 percent in movie theatres.
Fact #2: Bed bugs aren't just city dwellers.
Contrary to popular belief, bed bugs are not just in big cities or third-world countries. They are found in all 50 states of the USA and in all major cities of NZ. The incidence of bed bugs is three times higher in urban areas than in rural areas due to factors such as larger population size, apartment living and increased mobility, which are conducive to the rapid spread and breeding of bed bugs.
Fact #3: Bed bugs are hardy.
These pests can live for several months without a blood meal. This means they can linger in furniture, bags and suitcases for a long time until they are near a human host again. In addition, bed bugs can survive temperatures of nearly freezing to 122 degrees. Because of this, bed bugs are not a pest that can be treated with DIY measures. Professional pest control is the most effective way to treat an infestation.
Fact #4: Bed bugs are smart.
As a survival instinct, bed bugs are elusive. They know to stay out of view during the daytime, hiding in mattress crevices, box springs, baseboards, behind electrical switch plates, in picture frames, and even behind wallpaper. But at nighttime, the carbon dioxide we exhale often tempts them out of their hiding spots.
Fact #5: Bed bugs are methodical.
Bed bugs have a predictable feeding pattern. Once a bed bug finds a host, it will usually feed for 5 to 10 minutes until repletion. Sometimes the pattern of bed bugs feeing is jokingly referred to as breakfast, lunch and dinner as bites will often be found in a pattern. But the bite marks they leave behind - often in clusters or in a row on exposed skin on the chest, arms or legs - are telltale signs of a bed bug infestation.
Fact #6: Bed bugs could have a degree in anesthesiology.
People often wonder why a biting bed bug doesn't wake up its human host when it feeds. The answer is that components in bed bug saliva act as an anesthetic and promote increased blood flow at the bite site, making the feeding process quick and nearly painless.
After feeding, bed bugs move to secluded places and hide for 5-10 days. During this time, they do not feed but instead digest their meal, mate and lay eggs.
BED BUG EXTERMINATION AUCKLAND-HOW IT WORKS?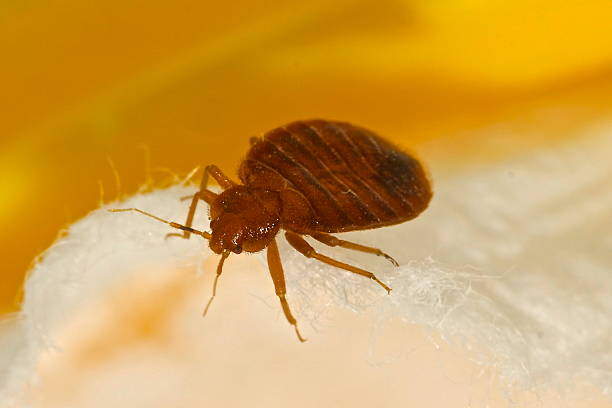 Firstly we need to establish is actually bed bugs? Please send me a picture of the bed bug and I will identify it for you FREE of charge.
We have a NO PREP treatment for bed bugs. Please do not move anything before we get there!
Our treatment plans depend on your type of bed.
We use three key types of treatments
(a) Chemical sprays We use a chemical spray that bed bugs are NOT resistant too. The formulation is a WP ( wetable power) which is recommended by Dr Jeff White.
(b) SAFE HEAT in the form of a steamer.   Bed bugs are very susceptible to heat. But more importantly heat kills their eggs. Chemicals often do not kill the bed bugs' eggs.
(c) Encasement. Where there are bed bugs inside a bed base and or mattress. Encasements  trap the bed bugs inside the mattress or bed base and starve them to death.
We met  Dr Jeff White from Bed Bug Central   at the 2016 NPMA meeting and follow his No Preparation treatment protocol. We also met Dr Richard Cooper a World Expert in Bed bug research at a meeting in KUALA LUMPUR in 2014.
We are an approved Bedbug FREE! business

HOW LONG DOES A BED BUG TREATMENT TAKE?
The time of a treatment depends on the home/apartment or business and the level of infestation. On average a single infested  room takes about 60 minutes . Its depends on the type of bed you have and amount of furniture.
ARE BED BUG ERADICATION TREATMENTS SAFE?
Our customers ask for treatments that are safe for people.
We have a range of treatments with some of them being chemical free!
We prefer to use heat as it quickly kills adults but also is very effective on eggs too.
If we use chemicals we use them in a safe method for you, your family and pets.
BED BUG TREATMENTS HOW MUCH DO THEY COST?
The price depends on the size of the house/apartment or business and also the number of infested rooms. It also depends on what is needed for each room e.g. bed base encasements.
BED BUG PEST CONTROL REVIEWS
Customer reviews of a service or product are a good way to see what you can expect. We have  REAL | RECENT | LOCAL reviews on google reviews.  If you choose ACES pest control we will ask you to review our service too!
BED BUG PEST CONTROL DEALS
We can scale the charge per room depending on how many infested  rooms you need to have treated. We run our year round i.d. my pest for FREE. Send a picture and will tell you of your bug is a bed bug for FREE!
NOT a chance! The DIYer doesn't have the knowledge and experience to find and treat a bed bug infestation. Bed bugs can be resistant to the DIYer chemicals. The EPA restricts the effective chemicals for bed bugs from the public and reduces the strength of the chemicals that the DIYer can buy.
Get in touch with ACES pest control regarding Bed Bug fumigation
CLIENT TESTIMONIAL
"Highly recommend.  ACES Pest Control were very happy to speak at length with me on the telephone, gave informed answers, were friendly and their knowledge far surpassed other pest controllers I talked to.  They genuinely wanted to get rid of my bug problem and had the know-how to make this happen ."
- Chris