BED BUGS
Successful pest control bed bugs requires a technician that has been trained by experts.
Bed Bug are on the rise  in the World. They are uncommon in houses in NZ and more likely to be in an apartment complex or in an accommodation business.
"I have some bites and the internet has told me that they are from Bed Bugs". WRONG!  As per Dr Richard Cooper Ph.D. from Rutgers University New Jersey USA, bites are NOT diagnostic of a bed bugs or any biting insect.
Unfortunately the internet has incorrect information on Bed Bugs.
People presenting with bites without seeing the insect is called UNEXPLAINED BITES.  Unexplained bites  can originate from NON pest issues, and uncommonly can be Bed Bugs.
Dr Cooper and Dr White manage bedbugcentral.com, a resource to train Professional pest controllers in the USA.  ACES pest control has passed an examination from Bed Bug Central as  is a certified Bed Bug FREE technician.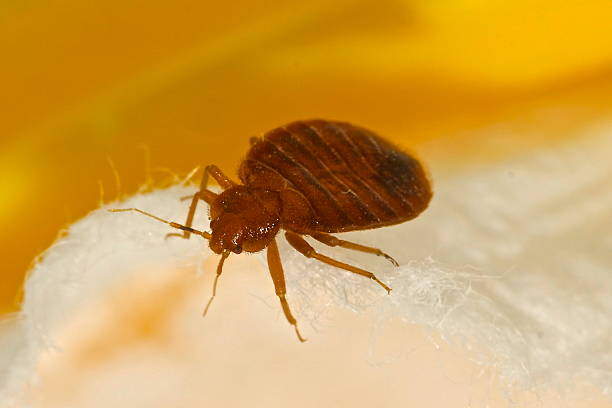 Firstly we need to establish is actually bed bugs? Please send me a picture of the bed bug and I will identify it for you FREE of charge.
We have a NO PREP treatment for bed bugs. Please do not move anything before we get there!
Our treatment plans depend on your type of bed.
We use four key types of treatments
(a) Vacuuming to reduce down high numbers.
(b) SAFE HEAT in the form of a steamer.   Bed bugs are very susceptible to heat. Safe heat also kills bed bug eggs.
(c) Encasement. Where there are bed bugs inside a bed base and or mattress. Encasements  traps the bed bugs inside the mattress or bed base and starve them to death.
(d) Traps. These help to monitor Bed Bug number and also reduce down the overall number.
(e) Chemical sprays. Professional grade restricted sprays from reputable companies.
Please click here for a list of things that work and don't for treating Bed bugs according to Dr Cooper
We met  Dr Jeff White from Bed Bug Central   at the 2016 NPMA meeting and follow his No Preparation treatment protocol. We also met Dr Richard Cooper  at a meeting in KUALA LUMPUR in 2014.
We are an approved Bedbug FREE! business

HOW LONG DOES A BED BUG TREATMENT TAKE?
The time of a treatment depends on the home/apartment or business and the level of infestation. On average a single infested  room takes about 60 minutes . Its depends on the type of bed you have and amount of furniture.
ARE BED BUG TREATMENTS SAFE?
Our customers ask for treatments that are safe for people.
We have a range of treatments with some of them being chemical free!
We prefer to use heat as it quickly kills adults but also is very effective on eggs too.
If we use chemicals we use them in a safe method for you, your family and pets.
BED BUG TREATMENTS HOW MUCH DO THEY COST?
The price depends on the size of the house/apartment or business and also the number of infested rooms. It also depends on what is needed for each room e.g. bed base encasements.
BED BUG PEST CONTROL REVIEWS
Customer reviews of a service or product are a good way to see what you can expect. We have  270+ REAL | RECENT | LOCAL reviews on google reviews.  If you choose ACES pest control we will ask you to review our service too!
BED BUG PEST CONTROL DEALS
We can scale the charge per room depending on how many infested  rooms you need to have treated. We run our year round i.d. my pest for FREE. Send a picture and will tell you of your bug is a bed bug for FREE!
NOT a chance! The DIYer doesn't have the knowledge and experience to find and treat a bed bug infestation. Bed bugs can be resistant to the DIYer chemicals. The EPA restricts the effective chemicals for bed bugs from the public and reduces the strength of the chemicals that the DIYer can buy.
Get in touch with ACES pest control regarding Bed Bug fumigation
Video on FAQS on bed bugs
FREQUENTLY ASKED QUESTIONS BED BUGS
Q: BED BUGS: WHAT PREPARATION IS REQUIRED FOR BED BUGS?
A: Nothing. No preparation treatment.
Q: BED BUGS: HOW MANY BED BUG CALLS TO ACES ARE ACTUALLY BED BUGS?
A: Bed bugs are not common in NZ. Of the people calling saying they have bed bugs, most of these are from UNEXPLAINED BITES. These are people that have not seen a Bed Bug and only have bites. Bed bugs are only 1/20 or less of the people calling in saying they have bed bugs. People with Bed bugs always see them and have no issues sending a photo of one.
Q: BED BUGS: I WENT TO THE DOCTOR WITH SOME INSECT BITES AND HE TOLD ME IT'S BED BUGS?
A: NO! Bites are not diagnostic of the type of pest. Your Doctor is misinformed.
Q: BED BUGS: I HAVE BITES IN A LINE IT MUST BE BED BUGS ?
A: NO! Bites alone cannot diagnose what is biting you
Q: BED BUGS: HOW DO YOU TREAT BED BUGS?
A: Bed bugs require plan based on your situation. This often requires more than just chemical spray.
Q: BED BUGS: I HAVE BITES BUT DON'T HAVE PETS SO IT CAN'T BE FLEAS THEREFORE IT MUST BE BED BUGS?
A: NO! You need to see/ catch/ describe what insect is biting you. Once we have identified the type of pest we can get a plan together.
Q: BED BUGS: I HAVE A FEW BITES FROM AN UNSEEN INSECT IS IT BED BUGS?
A: NO! Bed bugs cannot be diagnosed alone by bites.
CLIENT TESTIMONIAL
"Highly recommend.  ACES Pest Control were very happy to speak at length with me on the telephone, gave informed answers, were friendly and their knowledge far surpassed other pest controllers I talked to.  They genuinely wanted to get rid of my bug problem and had the know-how to make this happen ."
- Chris